In Part 1, I started by describing my band Headkase's 10 Year Anniversary show at the Hi-Fi Bar in January of this year, where we performed to 1,200 people.
I talked about some of the local Brisbane bands I used to see when I first started attending gigs. They included Resin Dogs, George, Gota Cola, Tulipan, and others who had elements of hip hop, dance, folk and ambience.
I showed you my first band, Boris, which was influenced by these sorts of bands.
How did heavy metal get mixed up in all of this? How and why did Headkase form? And how were the large crowds achieved?
Boris didn't last long. The band consisted of fellow animation students, and a fine art student. We pretty much lasted until the end of the course. The other animation students went on to produce some well received underground comic books, as well as perform in other bands. The fine artist (vocalist) moved to Far North QLD to pick fruit.
Soon after, I read an ad in Time Off or Rave magazine about a percussion group that was forming. Being a fan of beats and rhythms, I joined. I played my Dad's bongo drums, and eventually bought a djembe too. It was basically a weekly drum circle, and was a lot of fun. About 20 or so people banging out rhythms together. We even did some performances in the Valley rotunda. A group of documentary film makers made a film about us too.
Within this percussion group were various members of bands, including a few from a band called "Von Gherkin". One night, the whole percussion group went to The Zoo to see Von Gherkin play. They were actually opening for George on this particular night.
US band Mr. Bungle
Von Gherkin were very much influenced by an American band called "Mr. Bungle". I had recently started listening to that band too. What fascinated me about Mr. Bungle was the fact that they would blend lots of different genres together. Predominantly, they played heavy metal (a genre that I felt was just a little bit uninteresting at the time), but mixed it with jazz, funk, techno, ska, circus/carnival music, pirate music, and music from the Middle East. Essentially, they made metal sound interesting to me. And clearly this view was shared by members of Von Gherkin.
Listen to a sample of "Voices" by Von Gherkin:
Not long after the final performance of the percussion group, my brother Todd asked me if I'd like to bring my keyboard along to band practice with a group of metal musicians he'd been jamming with. At first, I wasn't too sure what I could bring to the table, because I was really just discovering metal at the time. But then I figured I could apply my own influences of jazz, techno and trip hop, as well as circus music, which I thought was a nice touch in the music of Mr. Bungle. That first jam was a hit. And everyone was very keen to take it in this direction, rather than just be a standard heavy metal band.
We started jamming regularly, and came up with some fun, catchy, quirky songs. Due to the crazy nature of the music, the members, and the various things that had hurt, changed and shaped us, we decided to call the band "Headcase". This was actually originally going to be the name of one of the songs.
Nutty (lead vocalist) entered us into the 2001 Queensland Rock Awards (previous entrants included Regurgitator, Powderfinger and The Butterfly Effect). Our first ever show was to be a qualifying heat at the Bracken Ridge Tavern in April 2001. This was a good incentive to rehearse a set for the night.
On the night, Todd (drummer) decided to draw on his face with Nikko pen to look like an evil clown. We really only had about 15 minutes of material to drag out into the 30 minute set time. And we didn't have a bass player. But somehow, we managed to qualify to enter the contest, on the condition that we find a bass player.
It didn't take long for Todd to bring in a friend he'd met at a party, guitarist Dylan, to play bass with us. A massive Mr. Bungle fan, Dylan was also keen on this wacky genre-blending metal band idea.
We'd registered the band name in the Rock Awards, but later changed the spelling to "Headkase" with a 'k' due to our discovery of an active punk band in Sydney with the correctly spelled name. The QLD Rock Awards was like a TAFE course on how to be a professional musician. To fully impress the judges, we had to show how serious we were by officially registering the band name (Headkase) as a business, by setting up a website, and various other things like promotion and image.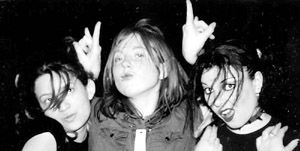 Razel
In setting up the business side of the band, I turned to members of my favourite local bands for help: Tylea from Gota Cola, Tyrone Noonan from George, and various others. I also wrote to members and managers of bands like The Mark of Cain, The Bird and The Hive, and received some helpful hints. Local all-girl punk metal band "Razel" (pronounced Razelle - rhymes with gazelle) became good friends of mine during this time too. Their manager Tracy Kick was of the greatest help in all aspects of establishing the band.
Headkase @ The Plough Inn (2001)
We worked our way up through all the heats (held at The Plough Inn at Southbank), becoming better and more confident, and managing to bring more and more of a rent-a-crowd each time. Todd was well and truly embracing his evil clown persona, wearing proper face paint and costumes to each gig. The movement and theatrics on stage, combined with the 'different' approach to music seemed to be working in our favour.
Headkase with Razel (2001)
Through all of these Rock Awards heats and public jam nights at the Plough Inn, we were also able to hook up our first gigs in the 'real' scene. Tracy took a chance on us, and gave us a show with Razel at the Alley Bar (at the now demolished Milton Bowling Alley), and then another with popular Adelaide rock band "Testeagles" at The Waterloo Hotel. This was our first taste of playing with the big boys. And we certainly learned that night what can go wrong. I don't really remember what the circumstances were that lead to this, but we had our set cut short and were kicked off stage by the Testeagles' manager.
That same August week, we played the Grand Final of the 2001 QLD Rock Awards, which was held at The Arena (formerly The Roxy), another of Brisbane's bigger venues mainly used for national and international touring acts. As one of the judges was from Triple M, we didn't win first prize. Our music just wasn't suitable for commercial radio. But we were so lucky to have made it all the way to the Grand Final, while so many other bands didn't make it through the heats.
From then on, it was all about continuing to promote ourselves, mingle with crowds at gigs, and build relationships with other bands and people in the music scene. One year on, we had established ourselves as a regular act at a venue under the Hilton in the Queen Street Mall called "The Basement" (aka Her Majesty's Bar). We still played almost everywhere else, but it was here where we really built our fanbase. Every time we played there, the crowd was bigger, to a point where we were pulling 300 people on a Wednesday night. The venue kept asking us back, because we were making them a lot of money. And other bands and venues were contacting us all the time too because of this.
Headkase playing a packed show at The Basement
By 2003, we were well and truly riding a wave. Playing regular packed shows at the Basement, and being asked to play as opening act for major touring acts such as US metal giants "Skinlab", UK industrial pioneers "Killing Joke", and Australia's own "Jerk" (who had a huge commercial hit that year with their single, "I Hate People Like That"). We were finally a popular band in the underground scene.
But with popularity comes haters...
In Part 3, I'll talk a bit about the Anti-Headkase Neo-Nazi group that formed in Brisbane.
To be continued...
Part 3 - http://geekazoidopinion.blogspot.com/2011/07/brisbane-music-scene-from-punter-to_22.html