Dylan (Headkase) at Hi-Fi Bar, 2011
As I stood on that big stage at the Hi-Fi Bar with the band, before a sea of almost 1,200 cheering people, I finally felt like all the hard work had paid off. For that brief period of time on Friday 28th of January, 2011, it was our turn. The 'Headkase' Ten Year Anniversary performance was not just another gig. This was the ultimate "rock concert" experience that every unsigned musician dreams of.
Brett (Headkase) at Hi-Fi Bar, 2011
And it all began 14 years ago, when I started attending local gigs. I watched as some of my favourite local bands played to increasingly larger audiences at every gig. Nobody I talked to had ever heard of these bands, but it was fascinating to see all the fans come out of the woodwork on these nights. It was like being in a secret club. While the rest of the world's population were ignorant of the existence of these bands, 500+ fans would come together, pack out a venue and party to some great original live music. I too wanted one day to be up there on the stage, in a band, performing to big crowds.
4ZzZ 102.1 FM
I don't know what it was that lead me towards some of the more abstract, underground sounds that were coming out of Brisbane's local music scene at the time. I guess I've always enjoyed music that's a bit different. Even as a kid, I'd get a kick out of some of the weird stuff that 4zZz were playing, as opposed to all the commercial pop music everybody else liked.
I guess part of being unpopular was enjoying unpopular music. All the cool kids liked what was "in". But what was "in" was just too bland for me. And there was (and still is) no way to avoid it. Every ad on TV, every shop, bar and passing car has it blasting. Even without listening to commercial radio, the songs still get stuck in your head. But while I couldn't avoid this over hyped, overplayed, generic, teeny-bopper rubbish, I could at least escape it occasionally by either listening to CDs, or attending live gigs.
Time Off Magazine - Brisbane Street Press
I used to read the local street press (Time Off, Rave and Scene) even before I was legally allowed to attend most gigs, so I kept pretty well informed about the scene. I was very much into acid jazz, trip hop, turntablism, trance, ambient, folk and funk at the time, and many Brisbane bands catered for these tastes. In fact, many of them combined all of those elements, which fascinated me.
Regular bands I would go and see included:
Soma Rasa, Zephyr Timbre, The Visitors, Hydrophonics
– All live bands with real instruments, playing funky dance and hip hop that you'd normally expect to be electronic. It sounded like real music, and the stage performances were a lot of fun.
Trinkets
Trinkets
– Ambient, delicate, quiet music. Strings, keys, cleantone guitar. Really soft moments that would elevate into louder, hypnotic sections. Hard to explain. It's the sort of music you'd listen to while reading a good book by a fireplace in a quaint old cottage. These guys were definitely an influence for the band "Marlinchen", which I was in between 2003 and 2007.
Tulipan
Tulipan
– Four girls playing exotic instruments such as hurdy-gurdy, zither and hammered dulcimer, as well as sax, violin, keyboards and plenty of drums and percussion. They all sung in harmony as well. Playing fun world music, folk and "Hungarian fusion", band members would talk about the history and origin of the instruments, which was always interesting too.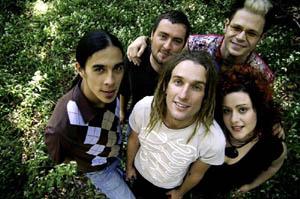 George
George
– Before they were famous, they played jazz, funk and ambient soft rock. I used to pay $10 to see them perform at The Zoo in the Valley. Sometimes, they'd perform for free in the Valley Mall rotunda during the Saturday and Sunday Markets.
Listen to a sample of "Homebrew" by George:
Resin Dogs
Resin Dogs
– Dave Atkins' live drumming in this hip hop/dance outfit always blew my mind. And DJ Katch was quite the turntablist. And there were always so many performers on stage, often including break dancers. This was a band who really knew how to pull massive crowds. Always a BIG, spectacular show with a big live sound. They knew how to party! Now, this is a time when Aussie hip hop was NOT played on the radio like it is now. These guys were making the crowds jump long before we were hearing Hilltop Hoods on the radio. My brothers and I ended up appearing as extras in one of their music videos: "Hardgroove 2001".
Listen to a sample of "Que Kumbers" by Resin Dogs:
Resin Dogs - Que Kumbers (Sample)
by
RealBrettHansen
Gota Cola
And my all time favourite, the dreamlike Gota Cola. Tylea, Lexie and Skritch always had me in a trance. I was always there, front row, centre at their gigs. I would often have a chat with Tylea afterwards. What a fanboy I was. I have both their debut EP and an autographed copy of their album, which I got them all to sign especially. Nobody else got a signed copy. It's not like they were signing them at the merch desk. I was honoured to meet all of them. They were just such an amazing live band. It was ambient trip hop combined with indie rock. Very mesmerising stuff.
Listen to a sample of "Red Red Moon" by Gota Cola:
All of these influences lead me to undertake a course in DJing and turntablism at the "United DJ Mixing School". Run by professional DJs in the business, I learnt how to scratch rhythmically (as they used to do in hip hop throughout the 1980s and early 90s, and in trip hop throughout the 90s), how to beat mix (creating beats using the drum sounds on records), and how to mix one dance (techno/house/trance) song seamlessly into another, creating the illusion of one long, drawn out track, as heard in nightclubs.
I did really well at the turntablism (scratching) element of the programme. I had an interest in this style, and have an ear for rhythm and timing in music thanks to years of classical piano.
From there, a couple of fellow animation students and I, along with a girl who was studying fine art formed "Boris", which incorporated all of the elements of these bands I was going out to see on most weekends. There was funk, jazz, folk, trance and hip hop elements. I was on turntables and keyboard. I had originally thought that this band was going to eventually follow in the footsteps of Gota Cola, George, Resin Dogs and the others, performing for the same crowds, and perhaps even on the same bill. But things took an interesting turn.
Listen to a few short (poorly recorded) samples of songs by Boris:
How did heavy metal get mixed up in all of this? How and why did Headkase form? And how were the large crowds achieved?